Let Layton Real Estate Get the Door For You
When a home is for sale the Agent who has a sign in the yard represents and works for the seller. As the buyer you can also be represented. At Layton Real Estate we work to ensure your buying experience is second to none. We will also provide you with an App that you will be able to search for homes in real time and stay connected with your agent at all times.
Hire a Layton Real Estate Agent When Buying a House
Our buyer's agents are held to the highest standard in representing and promoting your interests with the utmost faith, loyalty, and fidelity. By partnering with a Layton Real Estate REALTOR®, you can rest assured that your confidences will be protected, offers will be presented in a timely manner, and that all adverse material facts we are aware of will be disclosed. We'll closely advise you throughout the entire home purchase process, using our 50+ years of real estate experience to protect you both financially and emotionally. Our commitments are clearly outlined in our Buyer's Agency Agreement, all of which are provided at no cost to you!
Stronger Negotiation Power
Credible Advice
Valuable Market Data
Better Transaction Protection
Pre-listed Property Access
10 Simple Steps to Your New Home

With a Layton Real Estate agent at your side, you'll be able to navigate the home purchase process with comfort and confidence. The entire process typically takes between 30-45 days, and includes the following primary steps:
| | | |
| --- | --- | --- |
| 1 | | Meet with a Layton Real Estate Agent |
| 2 | | Obtain Lender Approval Letter |
| 3 | | Preview Potential Homes |
| 4 | | Negotiate an Offer |
| 5 | | Sign A Contract |
| 6 | | Arrange Home Inspection |
| 7 | | Get an Appraisal |
| 8 | | Acquire Home Insurance |
| 9 | | Confirm Loan Approval |
| 10 | | Final Walk-Thru & Closing! |
*Before you consider purchasing a new home, be sure you've saved enough money to cover the costs of acquiring your home, including earnest funds ($1,000+), home inspections (~ $400-$700), and your down payment and closing costs (ask your lender).

"We worked with Sarah to buy our first house and she was extremely helpful, prompt, and very knowledgeable of the process. We also were able to negotiate through her with the seller to increase the value on the buy side pretty substantially from the asking price. We have now outgrown our house and are using her as our listing agent. She has been very helpful and knowledgeable so far and she even had a professional photographer come take pictures of our home for the listing! Would definitely recommend whether you are buying or selling!"
Home Buyer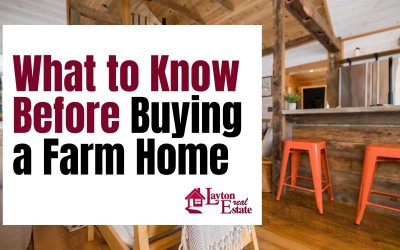 Ah, the countryside! The allure of a farm home often paints a serene picture in our minds—a quaint house amidst lush fields, under the soft glow of the morning sun, away from the relentless pace of city life. It's a life where you wake up to the chirping birds rather...
read more
Let's Find the Perfect Home for You