Sell Your Home for More Money
We offer a full service listing process for our sellers. Any agent can take your listing and put it into the MLS, but you need someone who's going to market it as if it were their own. We want your listing to look top notch with good pictures, detailed, and capturing the buyers immediately. Your listing will syndicate to hundreds of real estate websites as well as partnering with other real estate companies to share the listing on their site as well. We think outside the box and explore marketing avenues until the job is done.
Hire a Layton Real Estate Agent to Sell Your Home
For the best results, you need a seller's agent that will market your home as if it were their own. To ensure you get the most money for your home,  we offer a full-service listing process that includes a detailed listing with beautiful photography, as well as listing syndication across hundreds of real estate websites for maximum visibility. We also understand that every transaction is unique, and that getting your home sold may require a dynamic marketing strategy that defies the "one-size-fits-all" approach offered by other agents.
Get More Money For Your Home
Real Time Market Information
Negotiating Power
Proactive Protection
Professional Photography
10 Steps to Selling Your Home

In representing sellers, we strive to eliminate stress from the sales transaction, and in return we ask for your flexibility as the process unfolds. Rest assured that we'll be there for every step along the way!
| | | |
| --- | --- | --- |
| 1 | | Meet with a Layton Real Estate Agent |
| 2 | | Assess Your Home's Marketability |
| 3 | | Set Your Home's Sale Price |
| 4 | | Fix Repairs and Stage |
| 5 | | Take Professional Photos |
| 6 | | Market Your Home |
| 7 | | Obtain and Negotiate an Offer |
| 8 | | Allow Buyer Home Inspection |
| 9 | | Allow Buyer Appraisal |
| 10 | | Sign Sale Papers! |

"Kim Hoehn did a fantastic job selling our house quickly and we obtained multiple offers.  She guided us in choosing the best offer for our needs and time restraints. She was a great help and very professional throughout the entire process and was very responsive to our questions until we went to close.  She is professional, attentive and has a great personality that complements the competitive real estate market. We would definitely recommend her or use her again."
Home Sellers | 2016
"I need to thank you so much for your great job of selling my house in Ottawa & in such a short time – 40 days – how great is that?  I thought it would take much longer & you got the price I wanted for it. You did so many extra things to help with the sale of the house too.  My children are happy with you and Layton Real Estate too. When it comes time to sell my house, I told my children to have Layton Real Estate sell it for them."
Home Seller | 2015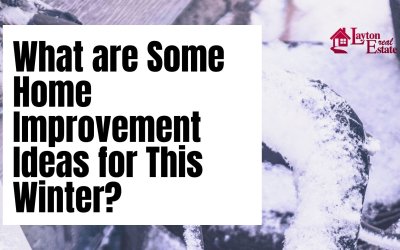 As the winter season rolls in, bringing chilly winds and shorter days, many of us find ourselves spending more time indoors. This makes winter the perfect opportunity to tackle those indoor home improvement projects that not only enhance the comfort and aesthetics of...
read more